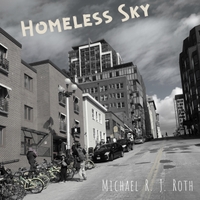 Thanksgiving is a time not only to give thanks for what we have, but also to remember those who are in need. I am honored to learn that my song "Homeless Sky" has been included in Hope 4 Restoration's Top 100 list of songs about homelessness: (https://www.hope4restoration.org/main.html)
Hope 4 Restoration is founded by Tim Houchen who once was formally homeless. Through his experience living on the streets he has the knowledge of the barriers that chronically homeless individuals must overcome to get back to a place of restoration. The desire is to provide existing resources and services and identify those that are non-existent and find ways to provide those resources to the chronically homeless. His approach is from a homeless perspective.
I encourage you to learn more about the organization and donate to their efforts to help the homeless. You can find out about the organization and donate here:
https://www.hope4restoration.org/
The songs are part of the "Longest Night" memorial event that takes place on December 21. The "Longest Night" is Orange County's official event in recognition of National Homeless Persons Memorial Day and has been sponsored by Hope 4 Restoration annually since 2014. The event takes place in more than 175 cities across America each year on the winter solstice. It's the shortest day for most people, but it is the Longest Night for persons experiencing homelessness and often the coldest night as well.
See more on the event here:
https://www.hope4restoration.org/memorial2018.html
You can find my song here:
https://www.hope4restoration.org/song64.html