Michael R. J. Roth has been called "a cool dark troubadour...a modern day poet not unlike Townes Van Zandt" and a "Jedi songwriter," evoking a mix of Leonard Cohen, Gordon Lightfoot, Johnny Cash, Jason Isbell and others with lyrics known for their intriguing imagery and "deep, profound truth." Lori McKenna called him "Brilliant."
He was the lyric winner of the NSAI Song Contest, the USA Songwriting Competition, the Great American Song Contest, and a Gold Award winner in the 2018 Mid-Atlantic Song Contest. He is featured in the Great American Song Hall of Fame, and is known for his award-winning, original acoustic songs with "the kind of lyrics that make Nashville writers salivate." NSAI named him "One to Watch." 

Past songwriting awards include First Place Lyric Winner in the Unisong International Song Contest, the Great American Song Contest, the Austin Songwriters Group and the Dallas Songwriters Association competitions, as well as two Honorable Mentions in American Songwriter Magazine.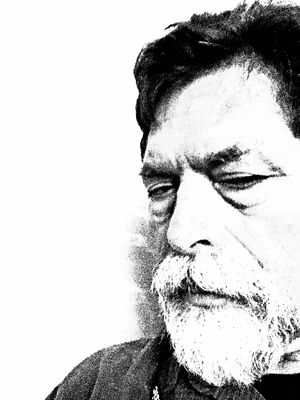 "EVERY TIME I WAS BROKEN, I BROKE INTO SONG"
Michael R. J. Roth is a Panama City, Florida, based singer-songwriter who has been writing songs and poetry since childhood, growing up on the shores of Lake Erie in a blue-collar town. Over the years, he dug ditches, washed dishes, painted houses and worked as a freelance writer, teacher, paralegal and diplomat, broad experience that provided fodder for songs that chronicle the tales of everyman. After studying international relations, he traveled to France, playing on the streets of Paris, wandering the cities of Europe and writing songs that have long since disappeared.
Santa Fe, Santa Fe
Where the morning strikes like lighting
And the years have slipped away
(" Santa Fe")
He moved to Santa Fe, New Mexico, where he was active in the poetry and music scenes. He taught creative writing, published an anthology of Santa Fe poets, Most of the Holes Are Occupied, and the literary magazine Read Street, which was named an "Outstanding Small Press Publication" by the Pushcart Prize. He published poetry in literary publications and Rolling Stone magazine and began performing both as a solo artist as well as with long-time friend and frequent co-writer Harri Wolf.
From shipwrecks of refugees beached on the shore
The petals of blood on the dancehalls of war
The sin that we love and the love we ignore
We have come to you
("Hearts Wide Open")
During his Santa Fe days, Roth studied Zen with the roshi who taught Leonard Cohen. One day, Cohen walked by him in a long line participating in a silent meditation. "I couldn't say a word to him, but I know the sound of Leonard Cohen meditating." That experience and his Christian faith inform his songwriting, and he considers the Psalms and other scriptures a primary source of inspiration. Some of these songs are in the albums Emergency Hymns and Naked to the Truth. Among other awards, "Hearts Wide Open" was a first-place winner in the 2016 Dallas Songwriters Association song competition, and "Blood on Our Hands" received an Honorable Mention in the 2017 Mid-Atlantic Song Contest.
Wrote my name on a napkin in a bar
Now another part of me is gone
("Movin' On")
Roth later joined the Foreign Service to do diplomatic work until 2016, and after a long hiatus from the performing life, Roth had to re-invent himself. Starting with open mics in the Washington D. C. area, he gained a reputation as a "Jedi songwriter" (according to Dan Magnolia of the Songwriters Association of Washington). 
The alley is riddled with slogans
That never came home from the war
And every dark window is broken
By a promise of light on the floor
Derelicts stand at the corner
Turning their blood to wine
While I reach for the sky
As if it were mine
("Reach for the Sky")
His influences draw from a broad range of world poets, including French, Russian, Chinese and Japanese poetry, as well as Americans ranging from T. S. Eliot, John Berryman, and William Carlos Williams to the beat poets. His musical influences leaned heavily on master lyric writers such as Leonard Cohen, Paul Simon, Joni Mitchell, Jacques Brel and others who delve deep to present the world in new and different ways.
I'm like a bat flying in the night
Singing songs to find out where I am
("A Bat Flying in the Night")
He has done workshops and interviews with beat writers Allen Ginsburg, William S. Burroughs, and Robert Creeley, as well as songwriting luminaries Rivers Rutherford, Steve Seskin, Billy Sprague, Dan Navarro, Pete and Pat Luboff, Gordon Kennedy, and Wayne Kirkpatrick. "Allen Ginsburg showed me that you can write anytime, anywhere, about anything," he said. "Your next song or poem is always right in front of you. And people like Paul Simon and Leonard Cohen show us that whatever you write needs to be better."
Oh my dream-laden lady come carry me home
I've gone blind and your life is so luminous
I'm afraid of the darkness, afraid that it's mine
Open my eyes
I've been hunting down night life
Feeding on their dreams
("Dream-Laden Lady")
"Homeless Sky was listed as one of the Top 100 Songs about Homelessness by Hope 4 Restoration, an organization that helps the homeless, and Roth has participated in the annual "Longest Night" commemoration. 
Roth also founded the "Get Off My Lawn!" group with members of the Folk Alliance International to help promote older musicians who have started or re-started their careers later in life, and to provide networking and educational resources for members. The group can be found on Facebook at https://www.facebook.com/groups/911367846147841
He has been featured in Write Away magazine, and has appeared in podcasts and interviews, including Carefree Highways Revisited, The St. Andrews Jezebel Podcast, Hope & Love Radio, and Northern Spirit Radio, and has appeared in virtual showcases around the country, including Folk Music Notebook's "Artist In Residence Showcase," several appearances in Dallas Songwriters Association showcases, The Loop At The Armory, and Folk Nashville Connection. 
In other roles, Roth was a panelist at the CD Baby DYI conference inNashville in 2019, "What If I Don't Want to Move to Nashville?" a panel discussion on the benefits and difficulties of living far from bright lights and big labels. While in New Mexico, he served on the board of the New Mexico Chapter of the International Western Music Association, and is currently on the board of the Dallas Songwriters Association. 
Roth has released a number of stripped-down digital folk-Americana albums and singles featuring naked acoustic guitar and his growling vocals, which listeners have likened variously to Leonard Cohen, Johnny Cash, Gordon Lightfoot and John Prine. They are available on his website (michaelrjroth.com), iTunes, Amazon, and  Spotify.
When I think of the times I've been injured
The ways I was maimed by the things I did wrong
And the pain that inevitably lingers
Through the night and into the dawn
I know I'm not one of the chosen
I know that I'm not very strong
But I know every time I was broken
I broke into song
("The Price of a Song")
Winner of the 2019 NSAI Lyric competition
FIRST-PLACE LYRIC WINNER
USA Songwriting Competition 
NSAI/CMT Lyric competition
Great American Song Contest 
Mid-Atlantic Song Contest
Dallas Songwriters Association 
Austin Songwriters Group
Unisong International Song Contest
---
Follow Michael R. J. Roth on Spotify
Listed as NSAI "One to Watch"